Dewatering Vibrating Screen Manufacturer China
2019-12-10
Dewatering vibrating screen is specially designed for the ore dressing and dewatering process, which can realize the separation and dehydration of particles with different particle sizes, and at the same time, the material can be unloaded on a sieve plate.
The main function is dewatering, desliming and dislodging. It can be used for sand washing in sand and stone plant, coal slime recovery in coal preparation plant, dry discharge of tailings in mineral processing plant, etc., so it is also called sand and stone dewatering screen, mine dewatering screen, slime dewatering screen, tailings dewatering screen, high frequency dewatering screen, etc.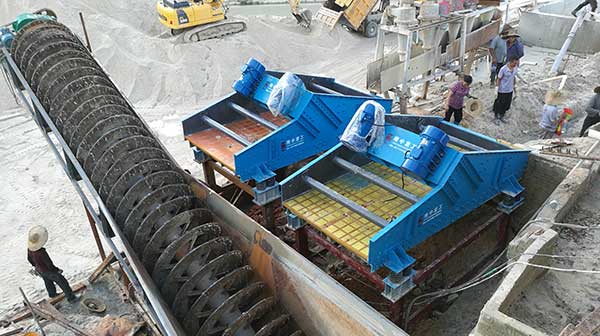 How Dewatering Vibrating Screen Working
It adopts dual-motor self-synchronization technology, adjustable amplitude vibrator and universal eccentric block . It is mainly composed of screen box, shaker, support system and motor. Two unconnected vibrators perform synchronous and reverse operation. The centrifugal forces generated by the two eccentric masses in the vibration direction are superimposed, and the reverse centrifugal forces are canceled out, thereby forming a single excited vibration in the vibration direction, which makes the screen box reciprocate Linear motion.
Benefits of Dewatering Vibrating Screen
1. Clean operating environment to reduce material leakage and facilitate cleaning, Easy cleaning of conveyor belts and reduced maintenance costs.
2. The material of the dewatering screen is ultra-high molecular polyurethane, which is impact-resistant, low-temperature-resistant, wear-resistant, chemical-resistant, self-lubricating, and absorbs impact energy.
3. The vibration motor of the dewatering screen is easy to replace. The base rubber spring is used to dampen the vibration, reduce the amplitude, slow the vibration, and clean the dehydration.
4. The dewatering screen can be customized according to the output and water content. The side plate of the fuselage has a reinforcing plate, the bottom is equipped with a support and a horizontal bar, and the discharge port is supported by a triangular thick steel plate.
5. The sieve holes can be adjusted according to needs, the equipment has low noise and good dehydration effect. Before delivery, the staff will debug it, whether the vibration motor is normal, and whether the shaker is running well to ensure that the quality of the factory product is guaranteed for the customer.
Why LZZG Dewatering Vibrating Screen
1. Factory Price
LZZG is an international professional enterprise specializing in the research, development, production and sales of mining machinery, No middlemen.
2.Customised Service
LZZG has over 20 years of vibrating equipment design and mineral processing experience.Cutting-edge technology is a deep driving force for the development of an enterprise.
3. Full Service
Pre-Sale Service
1. Selection of equipment model.
2. Design and manufacture of products according to customer's special requirements.
3. The company sends technicians to the user's site for free to plan the site and design the best process and scheme for the user.
On-Sale Service
1. Product acceptance.
2. Assist customers in drawing up construction plans.
After-Sale Service
1. Assign special after-sales service personnel free of charge and arrive at the scene to know customer installation and commissioning.
2. On-site training operators