Why Choose LZZG Sand Washing Machine
2019-12-17
LZZG sand washing machine is a multi-functional sand washer combining a wheel sand washing machine and a fine sand recovery system.
We used a reliable structure to connect 2 different units, occupying a smaller area than the 2 Independent devices alone, and the structure design is stable and durable. In terms of function, ordinary sand washing machines on the market generally only have the function of sand washing, but LZZG Sand Washing Machines integrate three functions of sand washing, dewatering and recycling, make it available for supreme sand quality and maximise recovery of fine sand.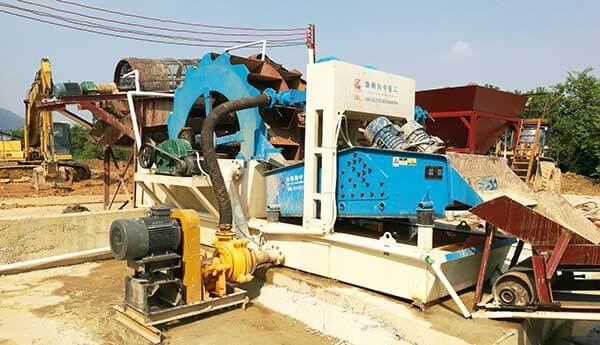 How Sand Washing Machine Work
The gravel mixture enters the cleaning box from the feeding , and the impeller starts to rotate by the motor and the reducer, so that the materials are fully frictioned to remove impurities and destroy the water vapor layer on the surface of the material for subsequent dehydration and recovery.The washed material enters the lower dewatering device and removes a large amount of water through the high-speed vibration of the dewatering screen.
The waste water (containing a lot of fine sand, mud and other impurities) overflowing from the cleaning tank is pumped out by a vacuum high pressure pump, and fine sand is collected by the centrifugal force of the cyclone .Qualified materials will be returned to the dewatering equipment for dehydration treatment, and excess waste water will be discharged into the return water tank.
Design Highlights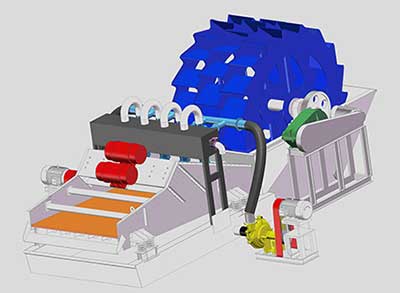 1. Just use a wheel sand washer or a screw sand washer, the discharged wastewater always contain a large amount of fine sand, which will cause the product loss.
2. LZZG sand washing machines contain 2 important components: wheel washing unit and fines recovery unit in a single machine, which make the sand specs be more precise.
3. Fine Recovery Unit make the sand and water separated on the dewatering panels, and resulting in a drier product with moisture content as low as 15%.
4. Hydrocyclones equipped on dewatering screen will recovery 0.075mm fines mixed in the slurry and reintroduced back onto the dewatering panels.
Hot Products
Send an Inquiry