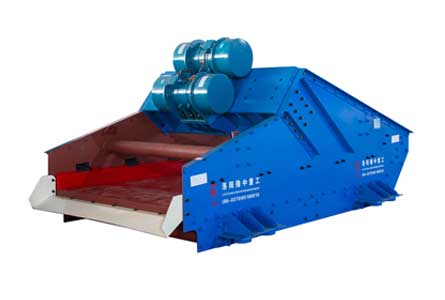 Dewatering Screen:
Dewatering screen, designed as linear vibration equipment, have a wide range of applications, including dewatering, desilting, desilting, rinsing, washing, sizing and washing.
Dewatering screens are designed to produce a consistent of water-less products such as sand, crushed stone, industrial sand, coal, iron ore, salt and other particulate matter materials.

Send E-mail: export@lylzzg.com
When acting on different materials, the structure of dewatering screen is different. For example, sand and stone dewatering screens in sand washing production line and the tailings dewatering screens commonly used in concentrators are different equipments. LZZG dewatering screen is mainly used in wet sand production line and can be used combine with sand washing machine or just alone.
Work With Sand Washer
The sand washed by the sand washing machine not only has a certain mud content and is too wet (large water content), which does not meet the market demand. The dewatering screen combined with the sand washer will reduce the mud content to below 0.7%.
Dewatering Screen Used Alone
When facing some materials with low mud content, the dewatering screen can be used alone. For example, quartz sand usually with a low mud content, the finished sand can meet the market requirements by using dewatering screens alone. And reducing the cost of buy sand washers.
Working Principle
In order to dewater material effectively, slurry is fed to the steep, downwardly inclined screen surface at the feed end of the dewatering screen, which is beneficial to rapid drainage.
When working, counter-rotating vibration motor generates a linear motion at a certain angle to the screen surface, which accelerates the solid upward and forward at high speed. Through this linear movement, the solids are transported to the screen discharge port. In the process of movement, water and solid are separated, and the upslope of the screen and the discharged weir form a deep layer, which can be used as a filter medium to retain the materials that much finer than the screen holes and allow water to pass.
Features
1. Screen material is made of PU, which has strong impact resistance, wear resistance and corrosion resistance.
2. Screen hole design adopts inverted triangle three-dimensional anti-blocking design to enhance efficiency.
3. Low power consumption source, suitable for a variety of dehydration needs.
4. Screen frame is made of stainless steel without welding.
5. Vibration motor can be installed horizontally or vertically and easy to replace.
6. Large processing capacity per unit area.
7. Debug each unit before shipping.
Dewatering Screen Specifications:
Model
Power (kw)
No.
Capacity (t/h)
Feed size (mm)
Screen parameter
Weight (kg)
Dimension (mm)
Screen size(mm)
Screen area (m²)
Screen material
TS0918
1.1
2
10-30
≤10
900*1800
1.6
PU
600
1885*1290*1077
TS0924
1.1
2
10-30
≤10
900*2400
2.2
PU
850
2483*1290*1215
TS1224
2.2
2
30-60
≤10
1200*2400
2.88
PU
1100
2485*1590*1424
TS1230
2.2
2
30-60
≤10
1200*2400
2.88
PU
1225
3084*1590*1439
TS1236
3
2
30-60
≤10
1200*3600
4.32
PU
1468
3677*1590*1498
TS1530
3
2
60-100
≤10
1500*3000
4.5
PU
1357
3083*1890*1433
TS1536
3
2
60-100
≤10
1500*3600
5.4
PU
1750
3683*1890*1445
TS1836
5.5
2
100-130
≤10
1800*3600
6.48
PU
3030
3717*2423*1927
TS1842
5.5
2
100-130
≤10
1800*4200
7.56
PU
3434
4368*2421*2104
Send Inquiry
Please write down your requirement and contact details in the following form, such as Raw material type, Capacity, Feeding material size, Final product size, etc. We guarantee that your information will not be divulged to third parties and reply to you within 24 hours.
Related Case
There are no relevant articles.