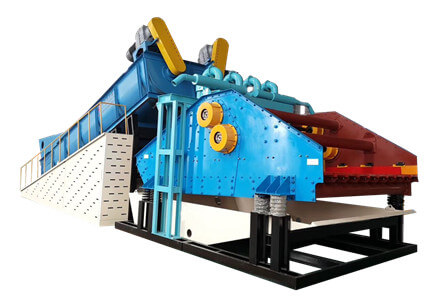 Spiral Sand Washing Plant:
Spiral sand washing plant is a multi-functional sand washing equipment that integrates sand washing, dewatering and recycling, which is designed and developed by our company for sand, stone powder, and other materials with high mud content in sand and gravel washing industry.
The reasonable structure of dewatering screen combined with sand screw washer to form an overall structure, which can reach more than 300 tons per hour.

Send E-mail: export@lylzzg.com
Spiral Sand Washing Plant is a high efficient and multi-functional water washing equipment, which is composed of a spiral sand washing machine and a dewatering screen and hydrocyclones. Compared to the purchase price of equipment alone, the choice of spiral sand washing machine is undoubtedly more cost-effective.
The spiral sand washing plant consists of spiral sand washing device, overflow device, water reverse device, separation and recovery device, water storage tank, slurry pump, elrctro motor, reducer and so on.
Working Principle
When the spiral sand washing plant is working, the crushing and grading materials are first passed through the conveyor belt to the double spiral sand washing device. After the grading and cleaning, the qualified material is dehydrated into the dewatering device, and the remaining waste water that after cleaning by the spiral sand washing device (containing a part of qualified material) is passed through the overflow device and get into the water reservoir device, then the waste water is pumped into the separation recovery device by slurry pump, material is concentrated under the action of centrifugal force, and the concentrated material get into the dehydrating device for dewatering.
Features
1. Compact structure, space saving.
2. The production range is large and can be customized.
3. High efficiency, more economical and practical.
Spiral Sand Washing Plant Specifications:
Model
Spiral diameter (mm)
Screen size (mm)
Cyclone
Production (t/h)
Total power
(kw)
Weight (kg)
Dimension (mm)
LX09-65-1530J
920
1500*3000
FX300*2
50-80
47
8480
11490*5560*3960
LX09-75-1836D
920
1800*3600
FX350*2
60-100
56
10140
11920*5560*4080
2LX09-100-2442J
920
2400*4200
FX250*4
150-180
81
16950
12630*6450*3860
2LX09-100-2448J
920
2400*4200
FX250*4
150-180
81
17250
14660*6450*4150
LX11-75-1836D
1120
1800*3600
FX350*2
100-150
63.5
11440
12230*5860*4250
LX11-75-1836J
1120
1800*3600
FX350*2
100-150
70.5
11750
12230*5860*4250
LX11-75-1842D
1120
1800*4200
FX350*2
100-150
63.5
12300
12830*5860*4250
LX11-100-1842J
1120
1800*4200
FX250*4
100-150
77.5
12550
12830*5860*4250
LX11-100-1848J
1120
1800*4800
FX250*4
100-150
77.5
12550
12830*5860*4250
2LX11-120-3048J
1120
3000*4800
FX300*4
200-250
120
27520
13560*7860*4300
Send Inquiry
Please write down your requirement and contact details in the following form, such as Raw material type, Capacity, Feeding material size, Final product size, etc. We guarantee that your information will not be divulged to third parties and reply to you within 24 hours.